AFTER SPRING BREAK in the country, many city dwellers long to create a nature vibe in their urban space. Fondly reminiscing about hummer happy hours, evenings spent watching hummingbirds flower-hopping, sucking down nectar shots, zooming by like bullets.
If you're musing about mounds of flowers, their scent cavorting with a breeze; pondering about pure, placid nature. Perhaps even googling something that goes like this, "ideas for making my balcony feel like nature."
HERE'S A CURATED guide.
Check your lease or CC&R.
FIRST, FIND OUT if your landlord or homeowners association allows hummingbird feeders, bird baths, potted plants, outdoor furniture and decorations.
If you're renting, your lease agreement should have a section listing all restrictions. If you're a homeowner, your homeowners association covenants, conditions and restrictions (CC&R) will say what's permitted.  If they don't allow bird feeders or bird baths. No problem.  Just skip to "Find flowers that attract hummers," below.  You can still make your balcony feel like nature using plants, flowers, furnishings and accents.
Learn about hummingbirds in your area.
Get a hummingbird feeder.
THERE ARE TWO basic types of hummingbird feeders:  vacuum and saucer. Vacuum feeders have a bottle or tube that drains the nectar into a reservoir with feeding ports. They can drip on hot and windy days. Saucer feeders are shaped like a saucer, with ports on the cover of the reservoir. They are drip free and are a better choice for windy balconies.
Here's a list of the best feeders for 2018 from Birdwatchingbliss.com. The overall winner is the Aspects Humm Zinger.
Pick-up or make some nectar.
THERE ARE TWO options:  store-bought or make your own.  Many enthusiasts eschew store-bought nectar, especially if it contains red dye and preservatives.
If you don't have time to make your own, best to get clear, store-bought nectar with no red dye. Get it at most hardware stores, nurseries, some big box stores and online.
Both homemade and store-bought nectars can spoil. It's important to choose a transparent feeder to detect cloudiness, floating particles or insects in the reservoir.  Replace the nectar and clean out the feeder one to three times per week.  These tiny treasures are every bit worth the effort.
Here's an Easy Hummingbird Nectar recipe from the Audubon Shop Blog.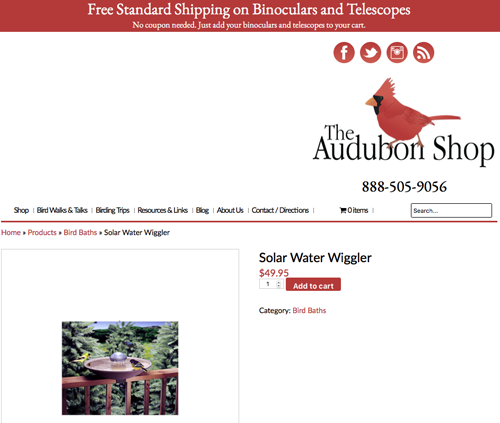 Hang and care for your feeder.
HUMMERS CAN FLY as high as 500 feet. Hang your feeder high where hummers can see it, away from pets and children, above the balcony line, in a shady area. Arrange plants and flowers with V-shaped branches near it so they can take a  load off.
Don't crowd them. Give them enough space to cascade freely around the feeder and make sure they have a clear view of the general vicinity so they can spot and evade predators. Get advice and tips at Birdwatchingbliss.com.
Feeders need to be cleaned regularly — especially in hot weather — to prevent  mold and bacteria growing.
Clean it one to three times per week with hot top water.  Daily if it's above 90F.  Clean it every time the hummers empty it.
Clean the inside and the feeding ports. Don't use dish soap. It's okay to use a weak vinegar solution, but plain hot water and wiping down with a clean towel is fine.
Get advice on Audubon's Hummingbird FAQ's page.
Choose a bird bath and water wiggler.
ALL BIRDS ARE attracted to the sound of splashing water. Hummers need water for bathing and drinking. They prefer misters and often fly through yard sprinklers.  Your balcony might not be conducive to installing a mister, but you can still attract them with a bird bath and water wigglers. They won't submerge themselves, but they'll dive and skim the surface.
Find flowers that attract hummers.
HUMMERS ARE ATTRACTED to bright, red, orange, tubular flowers that hug their long beaks.
 Audubon's native plants database helps you find native plants in your area for attracting birds. Just enter your email and  zip code.
Find your garden zone at Seedsnow.com.
Select outdoor furniture.
RELAX IN A Valencia Eucalyptus Chair from VivaTerra.com.
An updated version of the classic Barcelona chair. It's made of fine-grained eucalyptus, sustainably grown and harvested in monitored plantations.
Bonus.  It folds flat and is all-climate.
NOW, SOME SHIMMER with these Vivaterra.com Silver Hammered Drum Accent Tables.  Made from recycled materials with a hand-embossed top. They play nicely with the chairs.
Add some candles and cozy blankets.
CANDLELIGHT REFLECTS OFF the sides of the silver drum tables. Gorgeous!
The Large French Copper Rim Scented Candle from Vivaterrra.com is hand poured, made with a blend of essential, mineral and vegetable oils, entirely of recycled glass with a copper rim.
WARM UP ON cool nights with a Larkspur Linen Throw from Coyuchi, stonewashed for softness, woven of linen made from French-grown flax.
NICE JOB DONE.  Enjoy!